NEWS! 2023 UPDATE KNIGHT TRAINER
____________________________________________________
THE FUTURE OF BADMINTON TRAINING
Welcome to the revolutionary world of badminton training with the Knight Trainer Pro. This cutting-edge robotic badminton feeding system is designed to cater to players and coaches of all levels, offering unparalleled precision and versatility.
For casual players, this innovative training machine promises a more enjoyable and faster learning experience. If you're a competitive player, prepare to elevate your skills, refine your movements, enhance your fitness, and sharpen your reflexes beyond your wildest expectations.
What sets the Knight Trainer Pro apart is its ability to deliver shuttles with unwavering precision and exceptional power that surpasses any opponent's capabilities. With the integrated tablet control panel, you have complete control over this power and precision. The system comes preloaded with a range of drills tailored for singles, doubles, and mixed games. You can easily customize these drills to suit your specific needs or effortlessly create your own. Fine-tuning each shot and drill to your exact specifications has never been easier.
Teach, learn, coach, train, and improve like never before with the Knight Trainer Pro.
Personalization is key, and the Knight Trainer Pro allows you to save and organize training routines for individual players. Simply reopen the saved routines on your tablet to seamlessly continue your training sessions, ensuring consistent progress and growth.
Experience the future of badminton training with the Knight Trainer Pro and unlock your full potential on the court. Elevate your game, dominate your opponents, and take your skills to new heights. Embrace this technological marvel and revolutionize the way you approach badminton training.
____________________________________________________
WHO IS IT FOR
The Knight Trainer Pro is for everyone who enjoys teaching, coaching or playing badminton.
____________________________________________________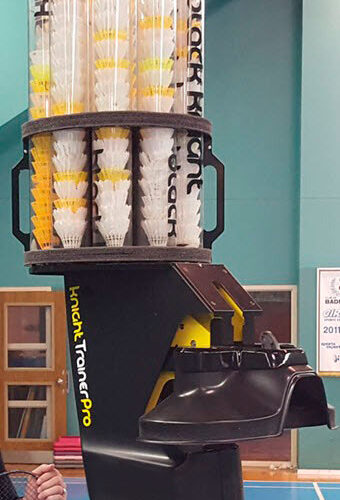 ____________________________________________________
ATTACK
In just 3 minutes, learn how to set up random and patterned feeding for a challenging Attack drill from the Knight Trainer Pro. Badminton players will face random feeding of clears, short clears and...
SMASH RETURNS FOR SINGLES UP TO FULL COURT RANDOM H6 N7 L10
Here we will show you how to easily use the KTP for an intense smash return workout. The intensity and volume of smash defense training can only be achieved with the KTP. Although we...
NEW FEATURES 2023 AND HOW TO CREATE A LOOP GROUP 5 PLAYER DRILL
From our snowed in location, we show you the latest Knight Trainer Pro innovations and then build a 5 player 210 shot drill.
Learn to use the Knight Trainer Pro app to create challenging drills for badminton training
I have been in love with badminton for over 60 years, and the best thing I ever did in the sport was ... create tools that can help anyone play better badminton, beginning with...
HOW TO - FULL COURT RANDOM FEED FROM THE SIDELINE for TARGETED RETURNS
Play your Best Badminton! We show you how to create a drill that will radically improve fitness and full court shot control and consistency. The drill created here is available on request to use...
MASTER DOUBLES DEFENSE
Use the Knight Trainer Pro to master badminton doubles defense. Learn how to set up a Playlist to mount a smash attack with hundreds or thousands of smashes that target all the doubles weak...
____________________________________________________
Setting Drills is Quick and Simple!
Using the Knight Trainer Pro
____________________________________________________
____________________________________________________
EASY SETUP & COMES WITH:
Set up takes only a few minutes and the shuttles can start flying.
____________________________________________________
WHO'S BEHIND THE KTP
We began development of a badminton machine in 1992 and in 2008, we introduced the world's first practical, portable and effective badminton machine – the Knight Trainer. Then we decided to start over completely and make a whole new amazing machine. The result is the incredibly superior Knight Trainer Pro. The revolutionary superiority of the Knight Trainer Pro comes from years of  cutting-edge engineering and design and  has produced THE best badminton training machine ever.
____________________________________________________
PERFECT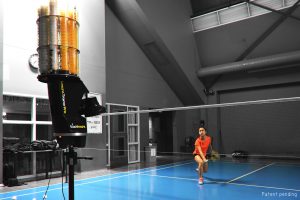 Elite players can perfect every shot in their repertoire, and expand that repertoire. Push players' reflexes with precisely varied drives and smashes across the whole court at up to 1 per second with one Knight Trainer Pro, or even faster with two. Or, choose slower and different frequencies for each shot to allow time for players to prepare and execute a wide range of shots.
LEARN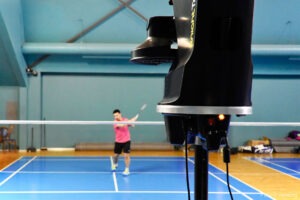 Dramatically accelerate the beginner's learning curve for all ages with the Knight Trainer. Simulate any shot consistently and repeatedly, allowing beginners to concentrate on coordination and technique.
IMPROVE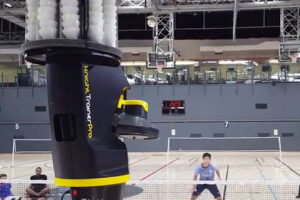 Players can improve accuracy, consistency and technique with a repeated feed of any one shot, or create simple shot patterns. Coaches can objectively measure improvement, using the consistency of the Knight Trainer to measure players' success percentages for various shots.
____________________________________________________
TESTIMONIALS
Knight Trainer Pro speaks through its customers
A great investment for any club! It attracts both amateur and pro athletes to advanceD training sessions.
"With the Knight Trainer I can easily set up specific drills and work on precise points of technique."
"When I want to put in the extra time on improving by general skills I can have the complete range of shots to practice"
"I can always find a way to discover and push myself to the next level "
The Knight Trainer is a partner that is challenging and fun !
As a novice player i set up the Knight trainer pro to give me a mild and challenging workout  at the same time targeting my backhand  after one session the KTP improved my returns and gave me a good sweat!!!!
M Saunders Badminton Coach @ KVCI
The Knight Trainer Pro  will be very useful for my high school team with so many different levels of experience. My players are looking forward to the newest member of the KC team!
____________________________________________________
GET IN TOUCH
Contact us today to find out how you can make the Knight Trainer Pro be your own personal Trainer !
Follow Black Knight to get the latest news